Aladdin Movie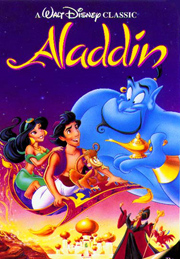 Directors:
Ron Clements, John Musker
Writers:
Ron Clements, John Musker, Ted Elliot, Terry Rosio
Release Date:
November 25, 1992
Casts:
Scott Weinger, Jonathan Freeman, Robin Williams, Linda Larkin, Frank Welker, Gilbert Gottfried, Douglas Seale
Description:


The story of Aladdin begins with Jafar trying to get a magical lamp that has a genie and learns only a person considered a "Diamond in the Rough" can enter the cave and retrieve the lamp. Jafar ends up discovering that a street urchin named Aladdin is that "Diamond in the Rough". Jafar ends up having Aladdin captured after he meets the Sultan's daughter, Jasmine, who snuck out of the palace being frustrated by her boring life. Later, Jafar tricks Aladdin into entering the Cave of Wonders and tries to kill Aladdin after he successfully retrieves the lamp. Fortunately, Aladdin ends up falling back into the cave and wakes up to learn what the powers of the lamp he found: the Genie.
Aladdin Songs