Beauty and the Beast Movie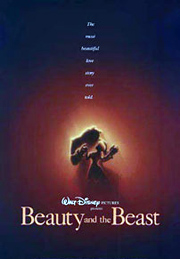 Directors:
Gary Trousdale, Kirk Wise
Writers:
Linda Woolverton
Release Date:
November 22, 1991
Casts:
Paige O'Hara, Robby Benson, Richard White, Jerry Orbach, Angela Lansbury, David Ogden Stiers
Description:


Beauty and the Beast is a love story between Beast, a young prince cursed as punishment, and the beautiful Belle. The curse cast on the young prince is that he would remain a Beast if he can not learn to love and be loved by the time he turns twenty one. One night Belle's father Maurice seeks shelter in Beast's castle and ends up being locked up in a dungeon. Belle learns of her father's situation and bargains with the Beast to take her father's place.
| Video | Parts | Video Source | Date Added |
| --- | --- | --- | --- |
| Beauty and the Beast (movie) | 1, 2, 3, 4, 5, 6, 7, 8, 9, | YouTube | Oct 1, 2009 |