The Little Mermaid Movie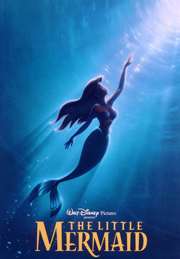 Directors:
Ron Clements, John Musker
Writers:
John Musker, Ron Clements, Hans Christian Andersen
Release Date:
November 17, 1989
Casts:
Rene Auberjonois, Christopher Daniel Barnes, Jodi Benson, Pat Carroll, Buddy Hackett, Jason Marin, Kenneth Mars, Samuel E. Wright
Description:


The Little Mermaid is about a mermaid girl named Ariel who is the youngest daughter of King Triton. Having lived under water her whole life, Ariel wishes to live on land with humans. She ends up making a deal with Ursula, the Sea Witch, where Ariel can turn into a human for 3 days. Within 3 days, Ariel must receive a kiss from her love Eric or she will turn back into a mermaid and belong to Ursula. In addition, Ariel has to give up her voice for receiving a pair of legs. Ariel's adventure continues with meeting Eric, the man she fell in love with, in hopes of receiving a kiss from him.